Training Map
Walsin Lihwa emphasizes practice, i.e. learning by doing and vice versa, by providing learning resources to encourage application of real case scenarios to training exercises, emphasize learning processes, and help internalize what is learned through practice to better develop employee talents.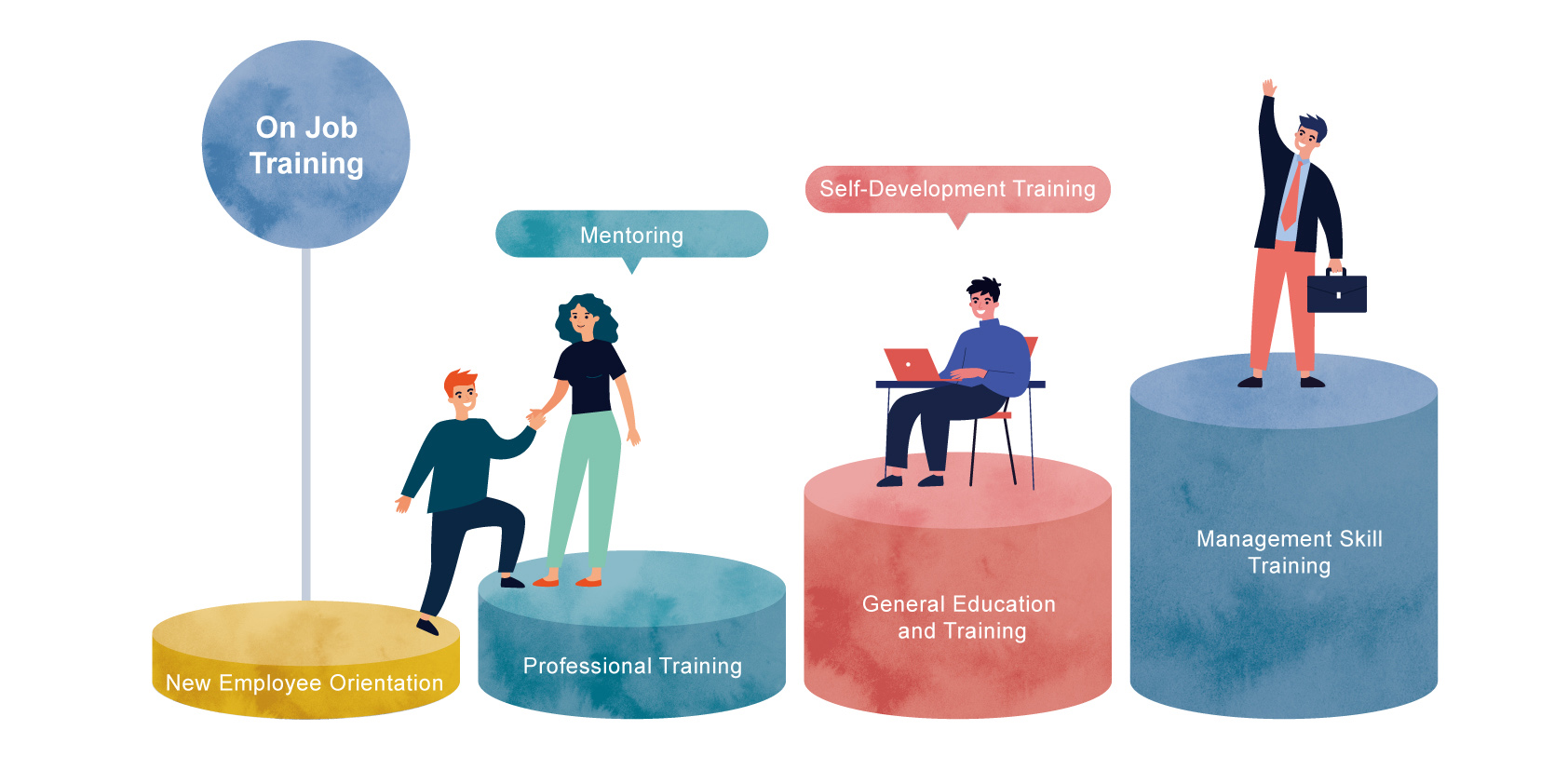 Learning Organization
Category
Detail
External Training Subsidization
Employees are the most precious asset of Walsin Lihwa, where employee cultivation is one of the top priorities. Therefore, every employee is entitled to generous training subsidization to take part in training and pass license examinations whenever necessary, so that individual employees and Walsin Lihwa can become increasingly competitive.
Mentoring
Passing on experiences is very important to Walsin Lihwa, where mentoring provided by senior employees helps bring new comers up to speed quickly to free them from time-consuming fumbling. The questions raised by new employees and innovations proposed by them are always entertained to help contribute to the open mindedness of Walsin Lihwa and further strengthen full employee participation.
Overseas Training
Employees are able to effectively develop international vison and strengthen cross-region capabilities through their participation in international business development, system design and implementation training, and international fairs along with Walsin Lihwa's active global expansion.

.International Business Development
There are many opportunities to work with and learn from international customers, business partners, and suppliers along with individual business units' international business development, smart plant implementation, and analysis of new investment targets.
.System Design and Implementation Training
Employees can benefit from their learning of system design and implementation, operation of automated manufacturing equipment, and AI manufacturing technology implementation from internationally leading IT hardware companies and system providers along with the intellectualization of Walsin Lihwa.
.International Fairs
Participation in various international fairs for industry exchange helps employees stay abreast with ever-changing market trends as well as AI, manufacturing, and material technologies around the world.

Technology Exchange
Walsin Lihwa emphasizes technology exchange and sharing must be sustained and ongoing pursuit for excellence can better be achieved only by collective knowledge. As everyone can be a good teacher to others, every employee can take part in the exchange seminars, achievement presentations, and relevant technology contests organized by Walsin Lihwa on a regular basis to help strengthen problem understanding and resolution. Moreover, Walsin Lihwa's commitment to live stream studio and internal exchange platform development is intended to make knowledge and know-hows readily available anytime and anywhere.
.Exchange seminars, technology contests, exchange with the Vice President of Technology on a regular basis, and biannual quality control circle (QCC) achievement presentations
.Live stream studio development
.Exchange on the YouZone platform
Self-learning Ecosystem
Aware of the advent of the era of intelligent revolution accompanied by ever-evolving technologies, Walsin Lihwa encourages employees to make good use of a variety of platforms for autonomous exchange with like-minded peers to explore new knowledge, enable interdisciplinary learning, build team affinity, and strengthen individuals' professional competencies. Walsin Lihwa's commitment to self-learning ecosystem development is intended to enable interdisciplinary exchange among employees for them to learn from each other, benefit from self-growth, and grow together with the Company.

.Book clubs
Book clubs of different subjects independently organized by employees help facilitate new knowledge sharing and professional expertise exchange with each other.
.Trend lectures
Professionals are invited to conduct online and physical lectures and workshops to help acquire latest industry knowledge while sharing relevant applications and experiences.
Walsin Lihwa Academy
Explore Unknowns and Face Up to Challenges Anytime and Anywhere
Walsin Lihwa Academy provides abundant online learning resources to generation education and training, management skill training, and professional training for employees to start to learn from the very basics and continue growing with the Company. Each time of learning amounts to a passport record to help continuously review in detail every step of personal and professional growth through learning at Walsin Lihwa.
Walsin Lihwa Academy accompanies employees to explore unknowns and face up to challenges anytime and anywhere.
.General Education and Training
Everyone at Walsin Lihwa can be a YouTuber to develop various contents such as the corporate culture of Walsin Lihwa, soft power development, company system introduction, and sharing among employees, etc.
.Professional Training
Different categories of basic job training are provided online through the joint efforts of many employees for new comers to start to learn from the very basics and then strengthen professional competencies step by step for slash career and life development.
.Management Skill Training
Selected case scenarios of the Company and 3rd parties are shared at objective management, subordinate management, and work management training. Abundant management programs provide sound management knowledge and enable realistic attitude and necessary skill development.