To ensure steady operation and sustainable development, the Risk Management Policy and Procedures were stipulated by the Board of Directors on February 27, 2020 based on the Regulations Governing Establishment of Internal Control Systems by Public Companies promulgated by the Financial Supervisory Commission. The Procedures stipulate the Board of Directors, Audit Committee, Auditing Office, President and President's Office, individual risk management units, and subsidiaries shall together participate in, promote, and implement relevant risk management measures.
Risk Management Organization Structure and Risk Management Categories
Individual risk management units' reports to the board of directors on different categories of risks controlled by them since 2020:
| Times of Reports | Dates | Report Content |
| --- | --- | --- |
| 1 | February 27, 2020 | Amendment to the Internal Audit Statement |
| 2 | February 27, 2020 | Stipulation of the Risk Management Policy and Procedures |
| 3 | April 10, 2020 | Amendment to the Derivatives Trading Procedures |
| 4 | August 4, 2020 | Amendment to the Internal Audit System |
| 5 | November 20, 2020 | Risk management status report in 2020 |
| 6 | November 5, 2021 | Risk management status report in 2021 |
Risk Management Status Report in 2021
Risk Management Status Report in 2020
TIPS Implementation Status in 2021
For the purpose of improving the internal control of intellectual property management, Walsin Lihwa implemented the Taiwan Intellectual Property Right Management System (TIPS) to Hsinchuang plant this year in addition to Yenshui plant and headquarter. The intellectual property right management policies and the targets are planned according to the TIPS regulation 5.2 and 5.3. The implementation status and annual plan are reported at a board meeting on November 5, 2021.
Intellectual Property Management Plan
Intellectual Property Right Management Policies
1. R&D for innovation and competitiveness enhancement,
2. Trademark and brand image protection,
3. Confidential document management, and
4. Employees' awareness of intellectual property rights for more effective intellectual property right management.
※The targets and implementation status according to the intellectual property right management policies, are listed in the "Annual implementation status and achievement "section.
Intellectual Property Management Measure
Walsin Lihwa have made an inventory of patents, trademarks and trade secrets and new regulations regarding invention encouragement, annual IP related training, trademark management process and contract review as a results of TIPS implementation last year.
Management processes of IP risk assessment, proposal review of IP right application, IP right protection evaluation, Infringement handling procedure and attentions for the outsourcing of intellectual property affairs are regulated as intellectual property management measure. Especially in terms of patents, the patent reward system will be implemented this year.
In the future, Walsin Lihwa will review the intellectual property right management policies and adjust targets and intellectual property management regulations annually in accordance with operation strategy and the changes in government policy and market. Also, to ensure the management system operated effectively, Walsin Lihwa will review our intellectual property management and improve the management system through TIPS verification, in case of potential risk and IP related dispute.
Annual implementation status and achievement
IP Management Targets and Implementation Status
| No. | IP Management Targets | Implementation Status |
| --- | --- | --- |
| 1 | One new full-time patent engineer | New patent engineer is on board in April, 2021 |
| 2 | 2 patent applications filed before end of 2021 | 2 patent applications are filed before September, 2021 |
| 3 | Implementation of Electronic R&D Record Book | Electronic R&D Record Book is implemented in some plant and keep tracking. |
| 4 | New or revised measures for Hsinchuang plant. | New or revised regulations are made for Hsinchuang plant. |
| 5 | To establish and emphasize the IP concept to all employee, organize an "employee IP concept and trade secret protection training". | The "employee IP concept and trade secret protection training" is performed as online training course and completed the first session during July to August. The second session is completed during September to October |
| 6 | For the implemented department, practical execution of TIPS related IP management system, organize a"TIPS execution system training for implemented department" | "TIPS execution system training for implemented department" is completed on 13th, August, 2021. |
| 7 | Made an inventory of confidential documents and patents | The confidential documents and patents are checked during June, 2021. |
| 8 | File encryption software implemented for key departments. | Training session for file encryption software is organized in December, 2021. |
| 9 | 2 overseas trademark applications filed before end of 2021. | 3 overseas trademark applications are filed in 2021. |
| 10 | Prepare intellectual property report | Intellectual property report is completed. |
Achievements of Intellectual Property acquisition
In 2021, 2 patents are granted. Walsin Lihwa have filed 3 global trademarks and 6 global patents based on 2 R&D proposals. As of August 31th, Walsin Lihwa have 21 granted patents, including 12 invention and 9 utility model; 10 pending patent applications, including 9 invention and 1 utility model; 150 registered trademarks and 3 pending trademark application. The global IP layout is as following figure.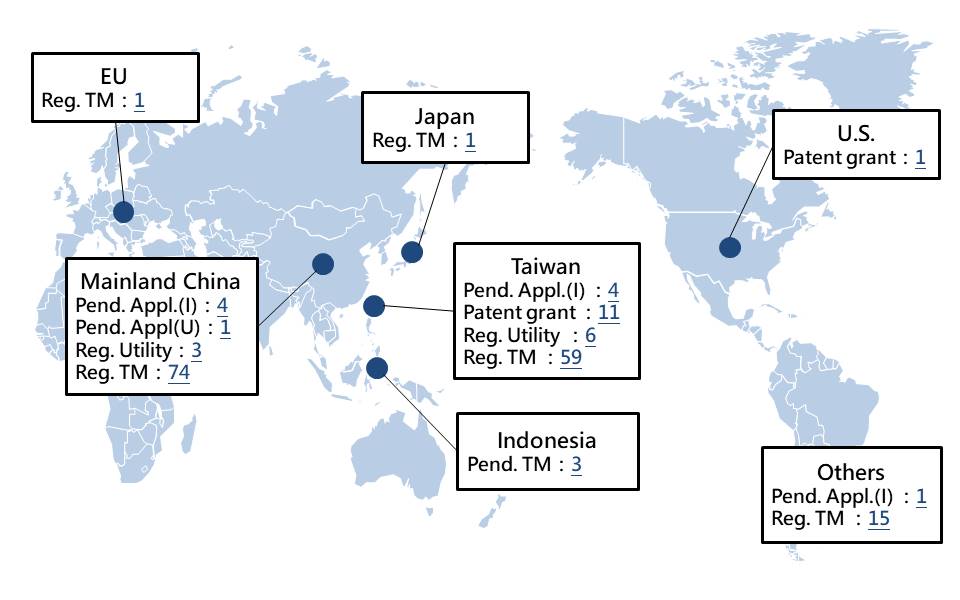 Advantages and contribution of IP to cooperation operation
1.Execution of IP protection and document hierarchical management:Organize training sessions of "TIPS execution system training for implemented department" and "employee IP concept and trade secret protection training" to improve confidential information protection during employee business execution process.
2.Trademark right and brand image protection:Refine management process of trademark and patent, and perform the IP management work.
3.R&D process improvement:Strengthen the R&D project-oriented R&D process and provide a reasonable reward system to increase the willingness of R&D employee for invention and patent application, so as to increase the company's R&D and intellectual property capabilities.
4.Disclose the intellectual property management plan implementation status on Walsin Lihwa official website.
TIPS verification
Walsin Lihwa filed application for TIPS verification on September 2021, and report the implementation status and annual plan at board meeting on November 5, 2021. And a TIPS certificate valid through December 31, 2023 was awarded to Walsin Lihwa at November 22th, 2021.
Potential IP risk type and Countermeasures
To ensure the R&D achievement and the corresponding rights are protected, preserve its economic values and prevent the IP right infringement, the IP risk type and countermeasures are listed below:
IP risk type
Countermeasures
Patent

Introduce professional of patent field
Encourage R&D employee to propose patent application

Trademark

Strengthen control power of trademark application, maintenance and usage

Confidential information management

Strengthen and implement IP training for employee
Improve confidential mark usage
Attention for reviewing contract with external vendors
Prospects for Intellectual Property Management
Looking forward to the future, Walsin Lihwa expects to encourage internal R&D energy, protect technology and R&D results by establishing a complete intellectual property management system. With Industry 4.0 implementation, process is gradually optimized, product innovation is promoted and upgraded, thus leads smart manufacturing and the high-value transformation strategy is realized. Furthermore, obtain the trust of financial institutions and investors by disclosing the energy of intellectual property. With complete information, customers and investors would correctly evaluate the true value and competitiveness of Walsin Lihwa. Based on Industry 4.0, stick to energy conservation and environmental protection and invent product and technology for environmental sustainability. Realize environmental friendly and society caring achievement and which meets the purpose of sustainable company operation.
Information Security Management Structure Implementation
In response to company transformation and enhancement of information security management, Walsin Lihwa established a Big Data & Cyber Security Division under its IT Center in 2017. The division is responsible for information security policy development and amendment; planning, coordination, and implementation of relevant information security measures; and strengthening information security management solutions year by year.
Pursuant to its Regulations Governing Information Security Organization Management , Walsin Lihwa established its IT Steering Committee in 2018 as an information security management and decision-making body for the headquarters and individual business units. Responsible for review and resolution of information security management matters, the IT Steering Committee has an information security promotion team responsible for risk appraisal, information security technologies, and information security compliance review.
Information Security Policy
Objectives of information security: To maintain the confidentiality, completeness, and availability of business information including sensitive information at Walsin Lihwa, all the employees, internal and external information service users, and 3rd-party service contractors are expected to work steadfastly together to achieve the following objectives:

Comply with relevant laws and regulations to protect company confidential information; prevent unauthorized access, tempering, damage, and/or improper disclosure to ensure the correctness of every category of business information.
Set up comprehensive business continuity planning and procedures for the management of information security events to ensure such events are properly responded, controlled, and processed, and conduct scenario drills on a regular basis to ensure ongoing operation of IT systems and information services in case of any information security events.
Cautiously handle and protect personal information and intellectual property rights pursuant to relevant domestic and overseas requirements.
Enhance employees' awareness of information security and reduce the risks associated with how information is used through management review, risk appraisal. internal auditing, education and training, and information security drills.
Require all the employees to strengthen compliance with the Information Security Policy as well as relevant regulations governing information security and SOPs.
Specific Program for Information Security Management
Develop information security plans for information security policy implementation year by year, bring in information security systems and workflow standards, and continue making information security technologies and relevant protection measures more complete.
The specific management program has 5 objectives, separation of intranet from extranet, multi-layered security defense, identification of security loopholes or other potential risks by log analysis and security inspection, smart security protection, and behavior analysis by log and big data analysis at the security operation center, which can be achieved step by step through 4 approaches, IT governance, data and equipment protection, network and system control, and boundary defense.
The specific management program includes:

Implement adequate access authorization and protection based on the confidentiality levels of information assets to reduce exposure to risks.
Continue bringing in advanced information solutions to enable effective system, host, and network behavior management and protection.
Provide education and training on a regular basis to share new knowledge on information security and strengthen employees' awareness of information security.
Focus on important systems to conduct disaster backup drills on a regular basis to rapidly resume operation in case of any disasters.
Evaluate and improve endpoint, server, and network equipment protection, and engage 3rd party professional services such as the information security inspection and diagnosis provided by the Industrial Development Bureau, Ministry of Economic Affairs.

In the future, information security at Walsin Lihwa will focus on prevention of online leaks of R&D results and intellectual property rights, production line and equipment protection from hacker attacks, and capability development for rapid responsiveness to information security events to cope with the challenges from comprehensive digitalization brought in by Industry 4.0.